A while ago, I happened to hear about a new exhibition of Star Wars memorabilia travelling through my own country, but the first few locations on the schedule seemed too far away to travel to just for the sake of seeing it. I sort of left it at that until this summer, when I was looking at a tourism flyer in my newspaper only to see the exhibition at an aviation museum close enough to think about going to. Making an extra-long weekend of it, I took the train to see, among other things, "Star Wars Identities."

I suppose I was inclined to think about the "explore how your own character is established" with the almost wry feeling that this was "educational content" bolted on to let the exhibition stay at a particular set of museums, and can also admit that the ticket I bought in advance seemed to make a big deal of showing up at a specific time. Gathering with a group of other people (a number of families with children among them) and being let into the special exhibitions hangar to be given earphone receivers and rubbery bracelets that would let us "build our own characters" did seem to start me thinking there could be something to the buildup, though, and as we entered into the first stage of it all I seemed to be grasping the whole experience.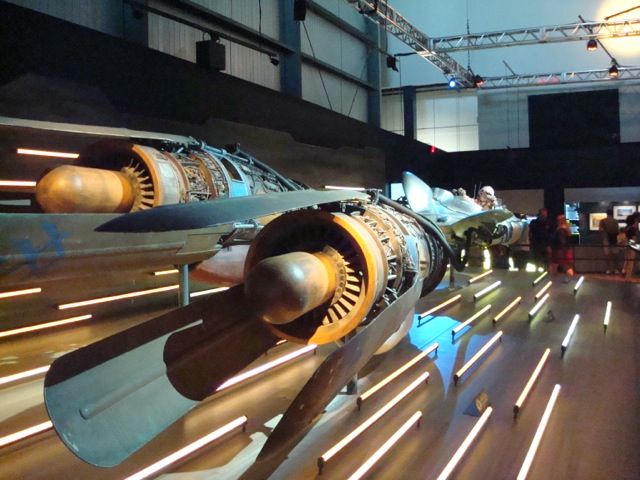 We'd been told we could take photos as long as we didn't use flashes, and I set my camera to its grainy high-sensitivity mode and started snapping. In noticing each costume and model and piece of preproduction art, though, I can wonder if in retrospect I grasped them as total units and didn't get as close as the glass or the railings permitted to try and perceive as many small details as I could. That might, though, have got in the way of other people. In the end, I bought the exhibition catalogue from the exit giftshop with very little hesitation, which had better pictures of everything than I could take.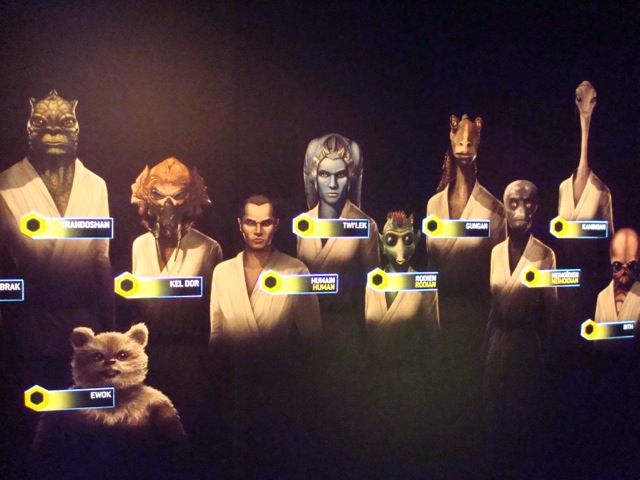 "Building a character" was interesting, anyway. I did find amused satisfaction in some of the particular species you could pick at the very beginning, but have to admit I was unadventurous and stayed human. At the very end, though, when people had a chance to display their characters on large screens, I took particular note of there being several Ewoks and one Gungan. (There was also a dedicated exhibit of Jar Jar artwork and preproduction models, something I again grasped and decided to approve of.) While I wondered how many of the traits we were able to pick at the different stages being ones you can't pick yourself in real life, that could have been the sort of thing that's evident to everyone. As well, though, I wound up wondering about the peculiarities of how dedicated fans perceive fictional characters; that didn't seem touched on at all.

One thing that didn't quite touch on "character" was a big case with spaceship models from the old movies, the half-sized Millennium Falcon built for The Empire Strikes Back in its own case nearby. It got my attention, anyway, but I was sort of struck by the thought the genuine models somehow just didn't feel as large as I'd always sort of felt them to be. As far as other models go, I was as pleased in a certain subtle way as by anything else to see a dedicated exhibit on the development of Ahsoka, continuing in the tradition of other bits of Clone Wars artwork.

In thinking back on it now, I think I did manage to transcend some "maybe I should have looked closer" afterthoughts and enjoy the whole thing over again. Whether there'll be a chance like that for me again I don't know.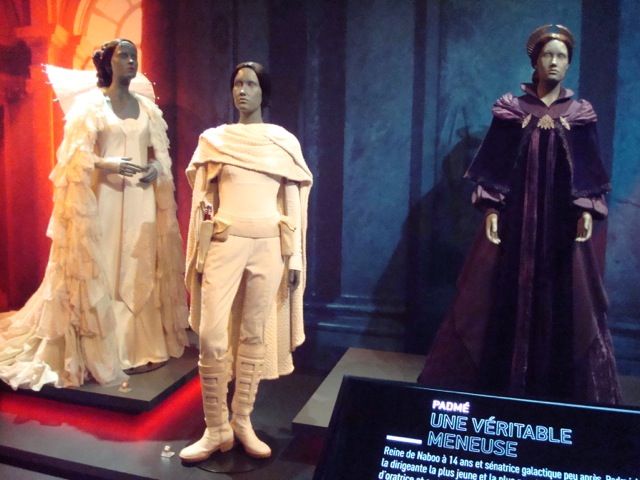 This entry was originally posted at http://krpalmer.dreamwidth.org/196631.html. Comment here or there (using OpenID) as you please.